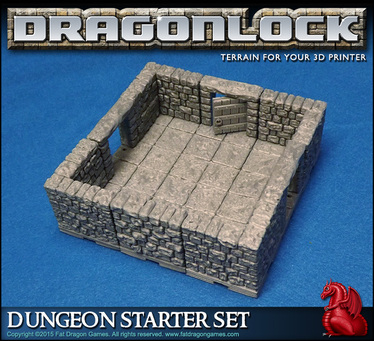 "Great storms announce themselves with a single breeze." This my friends is that single breeze.
DRAGONLOCK™
(
patent pending
) is an all-new interlocking terrain system that allows you to
create
fully modular, multi-level 28mm scale dungeon terrain for your RPG or wargame on your home 3D
printer
. Individual pieces links to neighboring pieces with our exclusive DRAGONLOCK™ clips. Each set is delivered as a downloadable .stl file, and once you have the set, you can print as many pieces as you like and never run out or need to purchase more.
A standard wall piece costs around 45 cents in plastic to print yourself,
far cheaper than factory made terrain! All of the models shown were printed at 100 micron resolution, a common standard on most economical 3D printers.
A really nice starter printer that can print these files starts around $399
(see our F.A.Q. for more info on printers, printing costs, filaments, and more, over on the FDG website forums here:
http://fatdragongames.proboards.com/board/21/3d-printing-dragonlock-terrain
This set includes:
• Straight Wall (universal)
• Straight Wall (variant)
• Corner
• Narrow Pillar
• Doorway with movable/removable door
• 2×2″
Tile
• Stairs (includes adaptor for miniatures)
• DRAGONLOCK™ Clips
• Instruction Guide
Price: $9.99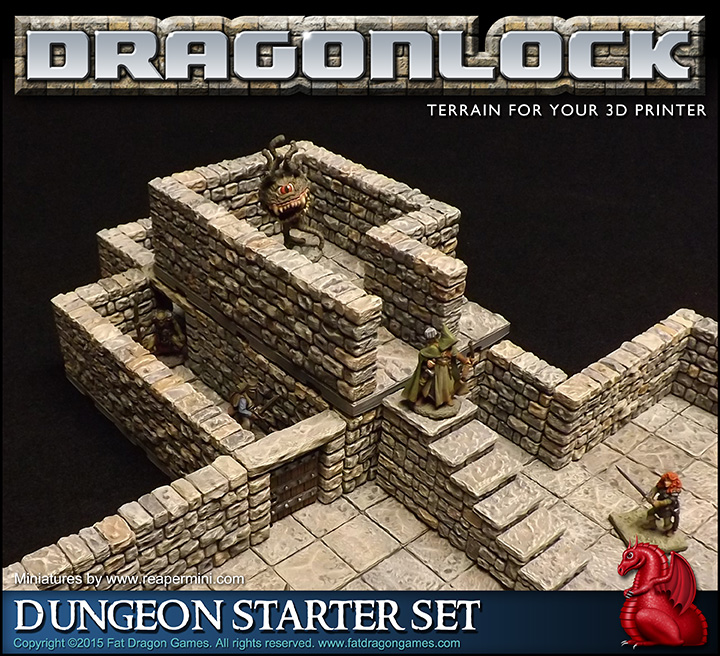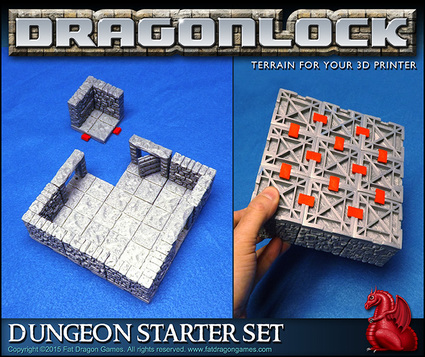 I think that the 3d printer tech is moving very quickly to a place where exceptionally high quality printers are going to be relatively cheap. I am not sure that I agree with the $400 100 micron assertion that Fat Dragon is making. My research indicates that 3d printers in the $2,000 price range (like the MakerGear M2) are FAR more reliable, offer a greater variety of filament materials, and a level of resolution that miniature enthusiasts are looking for.

With that said though, up until this point, 3d printers and gaming were simply pie in the sky dreaming. This is the first viable step forward and I believe will completely alter miniature gaming! If you think that laser cutters have altered the landscape of miniature scenery over the last three years this is going to blow that out of the water!