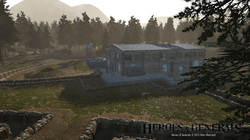 This update has the potential to bring real change to Heroes & Generals! First you have the infantry ONLY Depot Map, this small map features trenches, a large depot in the center of the map with a single control point, with everything else located in a forest. Without the constant drone of airplanes overhead or the devastating firepower of tanks this map will allow for a pure infantry vs. infantry game play.

Next, we have Improved Spawn Protection, given the small size of the Depot Map, they felt it was important to implement a system to dissuade those individual prone to spawn camping. From what I saw of the Dev Stream it seems that you will spawn within your zone but be in Ghost Mode invisible and unable to die. Enemy players that enter the spawn zone will be notified that their weapons are unequipped. Spawning players will find themselves half visible (but invisible to enemy players) this protection lasts until they leave the spawn zone. In Ghost Mode you will be able to enter vehicles be they visible or in Ghost Mode (yes, your tanks are protected too). Ghost vehicles are protected from visible players entering an occupied ghost vehicle to prevent griefing.

Finally, the Enounter Game Mode will be implemented. This mode is active until a player reaches level 3 and designed to facilitate learning the basics, locate, identify and shoot your targets. Another small map with trenches, this has a single objective without planes or tanks to distract new players from learning those crucial basic skills.

They are also implementing some tweaks to the Deploy Queue, which is triggered earlier in 9 player in 2-faction and 6 player in 3-faction (only allowing 1 player over-population). Ever get stuck in a battle at the very end? A much welcomed tweak is tightening up the rules when the match-maker can add players to a battle.

Overall, I am stoked about these changes and what they mean for the future of Heroes & Generals!