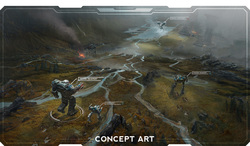 With just 6 days left on their
Battletech Kickstarter
, Hairbrained Schemes is sitting at $2,070,257 funding. So...the game is funded but in this final stretch what we
really
need is one last
HUGE
push to get to $2.5 million for the PVP mode! We are SO close and I know that we can bridge this last gap if we take to the Twitterverse, Facebook, Instagram...door to door if need be!
Yes, I am pandering.
No, I am NOT ashamed!
Look as cool as everything we will get at the current funding level is great and I am excited for it. Make no mistake though, you and I both know that we want the PVP, we need PVP, so lets get PVP!