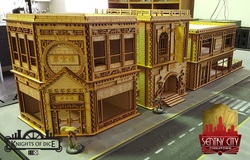 Knights of Dice
, an Australian based scenery manufacturer, is offering 11 more days of free worldwide shipping during their pre-order period! Which is a pretty big deal in and of itself, however they have started teasing (or tormenting) us with their Wave 2...Chinatown!
As good as Sentry City buildings look, and they look great, these Chinatown buildings floored me! They have designed these buildings with layer upon layer of intricate details that give you an end result that is anything BUT a shoebox.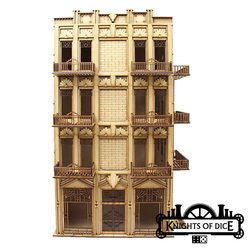 Pictured left is Millers Tower, standing an impressive 18-inches tall, complete with balconies and a fire escape it has a 10-inch by 12-inch footprint. The price tag of $110 dollars might seem on the high side, just remember that is Australian dollars which is $79.51 US dollars, € 71.96, or £51.85 Pound Sterling. Couple that with the free international shipping and you have a 4 story deal that is hard to beat!
Currently they have 9 different buildings available for the Sentry City, this does NOT include the Chinatown buildings. With that many unique buildings, given their average footprint, you can easily fill out your gaming table without having to purchase the same building over and over.
If the details on the buildings were not enough for you they have a full line of
accessories
. A 6-inch overpass for pedestrians, antenna pack, billboard, bus shelter, cell towers, dumpsters, roof-top access, subway entrance, and a telephone booth!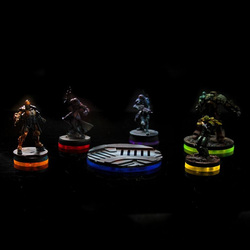 Warsenal
is now offering these colored acrylic discs to track the status of different models for Infinity. There are six different colors (blue, orange, yellow, green, purple, red) in 25mm, 40mm, 50mm sizes. The holes in the markers line up with those on Warsenal and Corvus Belli bases to make magnetizing them easier with Warsenal's
Rare Earth Magnets
.
The idea behind these base markers is to reduce tabletop clutter with all of those counters that Infinity uses. Not that I am complaining, being a big fan of Infinity it will be fun to try these out. Just make sure that you have the
Infinity Silhouette Markers
, so you can resolve any questions about your jacked up models (with all of those base markers underneath).