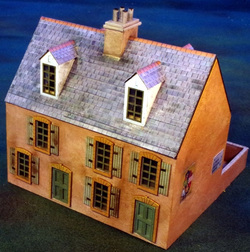 Sally 4th
has a plan...
"To design and manufacture a range of twelve 28mm model building kits for WW2 Normandy gaming using our new photo - realistic model making techniques. These kits will contain simple, robust parts, laser cut from 3mm Medite and 2mm MDF combined with detailed parts cut from coloured mounting board, perspex glazing and downloadable high quality cover sheets to print out to easily complete your models to the same standard as the ones in these photographs.The following buildings are available now:
Normandy Mid-Terrace
Normandy Left Hand End-Terrace
Normandy Right Hand End-Terrace
Normandy Stone Built Detached Town House
Norman Church
Normandy Corner Shops
The following buildings are included in the project as Stretch Goals.
The House at Dead Man's Corner
Normandy Cafe
Ruined Normandy Town House
Terrace Shop
Factory Buildings
Factory Admin Building
Details of these and other stretch goals including free removable first floors, alternative textures, ruined roofs and cobblestone sections can be found at the bottom of the page, past the pledge and add-on sections.
We have many more photos of the different layout / pledge levels and the terrain being tested at gaming conventions in our
photo-realistic terrain gallery
.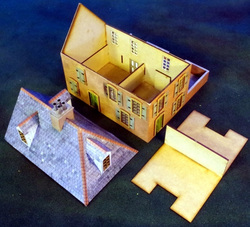 What do we mean by photo-realistic buildings? This is a model making technique that Sally 4th have been developing over the last year that combines the advantages of laser cut MDF kits with high quality, digitally printed photographic cover sheets. This combination has significant benefits. Our MDF building shells are robust, accurate, easy to assemble, light and will not warp. Walls are cut from 3mm Medite, floors and roofs from 2mm MDF. Each building also contains glazing, laser cut from Perspex and fine detail such as shutters and glazing bars which are laser cut from quality mounting board.

Buildings are finished by covering them with cover sheets that are based on photographs of real plaster, stone etc. These are emailed to you as a PDF file which can be printed on any inkjet or laser printer. The tiles for roofs are printed and then laid in overlapping strips to quickly and easily build up a realistic looking roof structure. All pieces are the exact shape and size needed, so once the shell is completed all that you need to do is print and cut out the cover shapes and glue them into position using PVA glue. This technique hides all MDF joints, so there is no way that you can tell that it as an MDF kit underneath and provides consistent results, so any model maker can complete a kit that looks exactly the same as the manufacturers photographs.

We finish off our buildings by coating them with hard wearing decoupage varnish that gives a very hard wearing surface. Once varnished buildings can be distressed by applying weathering powders."

If you are a Bolt Action player, like myself, then this is definitely a Kickstarter you should take a look at!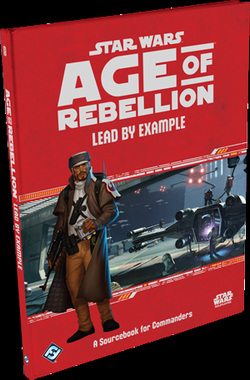 Currently in development at
Fantasy Flight Games
is...
Lead By Example
. This 96 page sourcebook offer players and GM's three new Command specializations, Figurehead, Instructor, and Strategist. There are new PC species, gear, and vehicles as well as guidelines for placing PCs within large-scale combat scene and suggestions for military campaigns.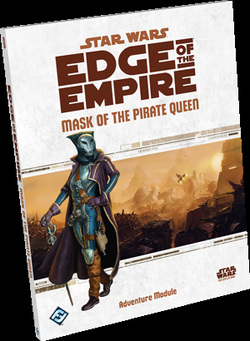 In other Star Wars RPG news,
Mask of the Pirate Queen
is due to be released November 30th!
"Mask of the Pirate Queen
also opens up two more planets in the
Star Wars
galaxy for you to explore. Today's preview offers a glimpse of one of them: the galaxy's most infamous shadowport, a haven for bounty hunters, smugglers, and all variety of criminals: Ord Mantell.
For centuries, Ord Mantell served the Republic as a regional depot, but gradually the planet's strategic significance dwindled. Eventually, the Republic abandoned the military spaceports it had once constructed, leaving them to be occupied, controlled, and used by a number of criminal and corporate elements. Since that point, Ord Mantell's link with the Republic has been tenuous. During the Clone Wars, it became home to Darth Maul's Shadow Collective, and even now, under Imperial rule, the planet retains a good measure of autonomy.
As a celebration of its criminal heritage, Ord Mantell hosts the annual Blockade Runners' Derby, a treacherous competition between smugglers and other thrill-seeking pilots. Prizes tend to take the form of lucrative and illegal business contracts, and more than one fortune has been lost through gambling on the race's outcome. Many of the galaxy's best and most notorious smugglers have competed in it. A certain Han Solo managed to win an unprecedented three times."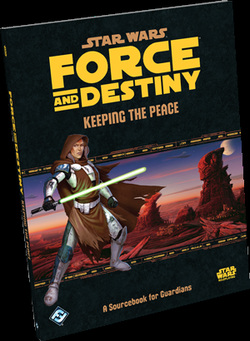 Yes...there is even MORE Star Wars news! Hey, at least I am not rehashing the latest trailer for Stars Wars The Force Awakens!
Due out December 31st is
Keeping The Peace
!
"You've moved objects with your mind, and leapt several meters in a single bound. You've secretly influenced the minds of other sentients and healed their wounds. You can even peer into the future. Maybe you've used these powers to make money, pilot a ship, find out secret information, or even just stay alive. Yet there is far more you can do. You can save the lives of others, battle oppression, change a village or planet for the better — even affect the future of the entire galaxy.
Those who take up the Guardian Career in the
Star Wars®: Force and Destiny™
roleplaying game use their powers to make positive changes and fight for the lives of others at the risk of their own. The upcoming supplement
Keeping the Peace
offers these heroic individuals new specializations, talents, gear, and vehicles, so that they can better protect anyone in need. You can learn about the Guardian specializations of
Keeping the Peace
in
the announcement for it.
Yet there's more to being a Guardian than the Force powers you possess and the lightsaber you wield. Today's preview takes a look at some of the epic Guardian stories that you might experience and how
Keeping the Peace
can help players and GMs create those stories together."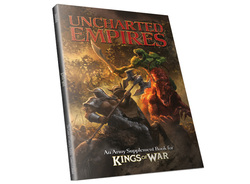 Mantic Games
is taking pre-orders for
Kings of War: Uncharted Empires
, which will begin shipping in November!
"
The heat shimmer that ripples above the parched earth does little to mask the horrors that lie assembled before you. You must focus on the task ahead. No plan survives contact with the enemy and the army you face is a howling, ravening horde of death that will test you to the limit. Today will be recorded in history but only one side will write it. Do you have the skill and courage to ensure it is you? Go. The time for war is now!
Welcome to Uncharted Empires, an Army Supplement book for Kings of War, the massed combat tabletop fantasy game set in the magical realm of Mantica. In this book, you are going to find:
Nine brand new Kings of War armies giving budding generals a whole host of new options and dastardly tricks to outfox and out-fight their opponents, including The Brotherhood, Salamander Armies, The Herd, The League of Rhordia, The Trident Realms of Neritica, The Empire of Dust, Night-Stalker Armies, Ratkin Armies and the Varangur
New special rules to further enrich your playing experience.
Lots of new background information on all the armies and the units within them."