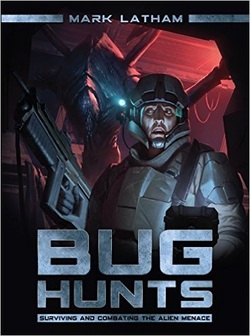 "They said there were no monsters. But there are.
It is the 23rd Century. Across the cold void of space, alien monsters prey on humanity: infesting generation-ships, destroying colonies, and transforming humans into hosts for their foul spoor. From the insectoid hive-beasts of Klaatu, to the xenomorphic parasites of the outer rim, this book contains the sum total of human knowledge of the myriad forms of alien menace; where to find them…and how to kill them. In this guide you will find details of mankind's greatest champions, the marines of STAR Industries. With their state-of-the-art technology and advanced combat tactics developed over a century of warfare, the STAR marines battle the alien, wherever it may strike."
Bug Hunts is yet another October release for
Osprey Publishing
, written by Mark Latham and illustrated by Darren Tan and RU-MOR. At only 80 pageExpect them to get straight to the heart of the matter, giving you everything you need to go on a Bug Hunt.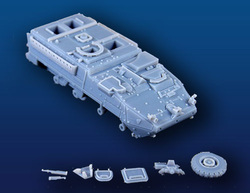 Continuing on with my recent foray into modern 28mm wargaming, from
Acheson Creations
we have the
Stryker Fighting Vehicle
. Priced at $26 it is one of the best deals around, coming in almost 50% less than at least one competitor. I believe that this vehicle is cast from a urethane plastic (one of the primary materials the Craig uses for his buildings), which is both incredibly durable as well as picking up details very well.
If you are 40k or Warhammer player and need even more
28mm skulls
(as every self respecting GW player does) , Acheson Creations sells them in bags of 50 at only $5!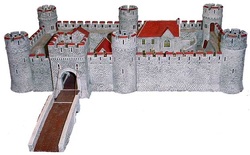 Not really new news per say, but perhaps some of you may not be familiar with the Hudson & Allen 25mm scenery (although they work great with 28mm figs). Pictured is their
Deluxe Castle
"This model consists of six separate pieces that can be rearranged to form different castle layouts or a long wall. It includes a gatehouse with a working cast pewter drawbridge and separate gangway piece. The tower, great hall, and stable tops are removable. The overall size of the layout shown is 30" long by 16" wide by 7.25" tall. This models does come pre-primed in gray latex primer."
I have their Standard Four Section Castle along with the Basic Medieval Tower Keep, and they are two of my favorite scenery pieces.