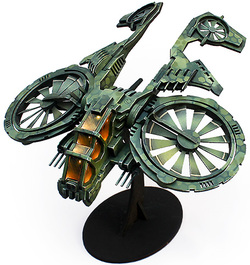 CNC Workshop Miniature Scenery has made available the Tornado, a transport with detachable troop pod (plus flight stand) and six heavy machine guns! A vehicle that looks this cool could be used in a host of games, from Shadowrun RPG to the Infinity wargame. Clocking in at 222.1mm (8.74 inches) nose to tail and 239mm (9.4 inches) rotor to rotor it will have a measurable presence on the gaming table.
This kit is made from laser cut hardboard, ships from Australia with the PDF instructions available online.
You can get yours here...
http://www.miniaturescenery.com/ProductPage.asp?Code=VH1DODO