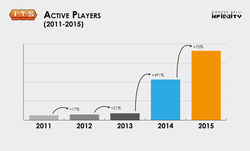 Corvus Belli has released their stats for the 2015 ITS campaign season, highlighting just how well Infinity has taken hold. While they are not releasing explicit numbers the percentage increases seen across the board are impressive.
Active Players saw a 70% increase over 2014, although the explosion of 2014 is still pretty mind boggling at 491%. That was their breakout year.
Player & Tournaments witnessed very strong growth in the United States and Internationally as well.
The popularity of the Nomads has grown to make it the #1 faction, with Panoceania in the #2 slot. Seems that I choose well when it came to my main faction.
Personally, I am impressed that a game that is generally seen as complex as Infinity, is seeing strong growth even when competing against games like X-Wing and Star Wars Armada which are relatively simple and a lower entrance price point. More importantly, the relatively heavy requirements for terrain does not seem to be stopping people from jumping into Infinity.
The rules clean up with N3 and more re-sculpts of certain miniatures may serve to make 2016 a banner year for Infinity!
http://infinitythegame.com/article.php?id=106