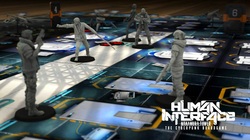 Human Interface Nakamura Tower
, the Cyberpunk Boardgame by Postindustrial Games out of the UK, has just released another update.
Perhaps, I am getting ahead of myself though. HINT, is a boardgame designed for 1 or more players. Set in the near future when the world is dominated by cyber tech and the dirty plays of might corps and powerful governments. The action takes place on a modular board, with models and a detailed set of rules.
The update is that the rules are in proofreading and will be published next Friday.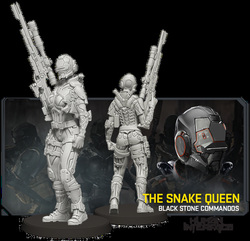 Of course that wasn't the only bit of news about HINT. Turns out they have reworked The Snake Queen, giving her a BFG (i.e. a sniper rifle) and tweaked out her battlesuit. As part of the long range hitter of the Black Stone Commandos, players are expecting her to make her presence felt.
If you are interested it is still possible for you to get in on the Kickstarter with a
Late Pledge
, just click that LATE PLEDGE HERE button and you will be good to go!
You can stay informed with the latest chatter on their
Facebook
page.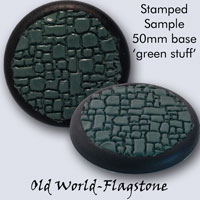 Happy Suppuku Modelworks
is running a Kickstarter for their Base and Terrain Stamp Upgrade
The STAMPEDE
! As of right now they are almost funded, needing only a little bit more to make the $8,000 goal.
How it works is you have their stamp, apply some putty to the miniature base and then press the stamp down. They currently have a good selection of stamps in 3x5 inch size and are looking to step it up to 6x6 inch scenic stamp line for diorama's or dungeon tile work! Given how much it can cost to purchase custom bases for an entire army this offers to be a much more economical solution.
As a side note, while they are using green stuff putty...I am not entire convinced that a person couldn't use DAS air dry clay in lieu of the far more expensive green stuff. Something that I plan to check on and see if it is possible, stay tuned as I will let you know.