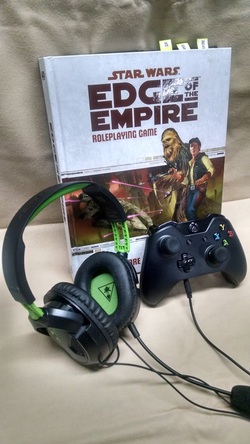 I have heard it lamented that the death knell to tabletop role-playing games was the coming of WoW. Never again will tabletop rpgs be mainstream, that in essence we are a graying market doomed to be consigned to the grave.

While I doubt tabletop rpgs will ever be mainstream again, if you take a look at where the game industry is today it has never been as vibrant or diverse. There are obviously a number of contributing factors to that, all of them revolving around technological advancements. Which is why I have a tough time lamenting the rise of video games as it is dependent upon the same tech which has benefited the average gamer.

Read that last line again...which has benefited the average gamer. Please take care to note that I am not stating game companies, game stores or game distributors have benefited, especially those that cling to the traditional industry model. The three tiered game industry is dying a slow and painful death. Change can be scary and at the same point in time offer up huge opportunities for small companies to come along and challenge the status quo. That competition has led to huge innovations be it from POD (Print On Demand), PDFs, to laser cut terrain and 3D modeling for miniatures. The next big thing...3D Printing is already starting to be seen in the game industry.

All of which leads to the real question...are video games a threat to tabletop gaming?

It comes down to how a person is going to devote their free time...which is the real limiting factor. There are those occasions where I feel like playing some Skyrim and other times I want to play a session of Pathfinder. They satiate two completely different desires in terms of gaming experience though. Video games, even ones as open ended as Skyrim are tightly scripted with a limited number of outcomes and lack any real social interaction. Tabletop rpgs are heavily reliant on the presence of a motivated and skilled game master, without which a session will normally be in trouble. However, tabletop rpgs offer extemporaneous story development to a degree that even the GM will routinely be surprised by the end result.

Where tabletop rpgs and video games will intersect...is when we have virtual 3D environments that support a reliable and robust voip (Voice Over IP). It will be an extension of something along the lines of the Skyrim Creation Kit, with 3rd party content for buildings, terrain, monsters and audio components that can be plugged into a GM's virtual adventure. The open ended design of a Skyrim with mind numbing vistas and FX and the extemporaneous dialog between individuals in real time.

As such, I do NOT begrudge video games their success because I believe we need that success to get to where we need to be technologically for the next step in gaming!