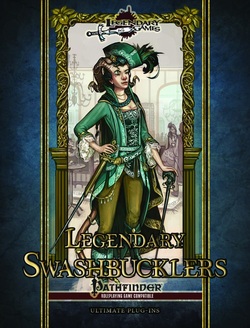 The other day I contacted Jason Nelson at
Legendary Games
to ask if there were plans to make
Legendary Swashbucklers
available as a Hero Lab packet. I could go into great length to inform you how much I like Legendary Swashbucklers...however...the fact that I want to basically purchase their product a
second
time should be enough of a tell.
I digress, Jason got back to me (in a very timely fashion) and sadly informed me that while he would love to offer Legendary Games products as Hero Lab packets that Lone Wolf Development prefers to add only big chunks to their system. So, if Jason did a big compilation of material, Lone Wolf would be willing to consider making it into a Hero Lab packet. It was expressed to Jason that...
"
apparently the amount of work needed to make things work with their system without lagging the system is more than it is worth to add small supplements to it one at a time
."
If one were to take that on face value it would lead...this
one
...to believe that Hero Lab is not optimally coded. Or one...
might
...interpret this that Hero Lab is some sort of de facto gate keeper...ensuring that only a chosen few get into the kingdom.
Neither premise casts Lone Wolf Development in the best light and leaves me yet again asking a game company to take my money already.
To their credit...Lone Wolf does a
great job
at updating Hero Lab and the learning curve is actually very good for that program. Unfortunately the ability to add material by the end user has always been...problematic.
For those who would grab a handful of monkey poo and throw it at me...I would point out that DM Genie was a much more transparent and flexible program that did far more than Hero Lab (back in 2004). Even more impressive was that DM Genie, to my knowledge, was a one man show. In this day and age I find it frustrating that a useful program is limited to a handful of content producers for a game system that is so popular like Pathfinder.
There should be a solution that facilitates the taking of my money!