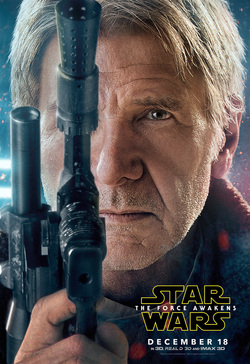 So we went to see it today, the theater was pretty full even for a 1:00 PM Saturday showing. The rumored Rogue One trailer...did not...materialize on screen so that was a bit of a let down but I can handle that.

Then as the movie started, the real world fell away and there I was back in the Star Wars universe. Now...I didn't feel like a 10 year old kid again, which I would have paid good money to experience but there was no denying I had bought into it.

The movie didn't drag at any point, maintaining a fast pace.

Visually it was stunning.

Acting wise...Daisy Ridley was the standout for me. She hit her mark precisely and with flair...never a helpless damsel in distress.

Where the movie faltered a bit for me was that it was trying to cram SOOO much into a short time frame that you didn't feel like you got all the information you needed.

Did that in any way detract from the movie experience?

No, and I am relatively certain that the Director's Cut version will have plenty of footage from the cutting room floor added back. Yes, I am positive that Disney is going to release a Director's Cut...for something this big you can bet on it.

Should you go see it?

Well...Duh! Of course!