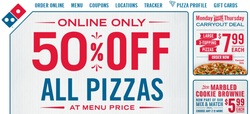 Warning: non-game related rant forthcoming...

Just a few minutes ago I was listening to "Say It Isn't So" by the Outfield and doing some casual web surfing. I was relaxed and having an interesting read...when all of the sudden...a Dominos ad starts blaring through my speakers ruining the ambiance of the moment.

I am relatively certain that Dominos thought if they told me about their current specials that I would seek them out to fill that void in the pit of my stomach. Sadly, such is not the case...nor will it ever be the case ever again, it would be fair to say that I can hold a grudge and frequently do so (nobody is perfect). Why advertisers and equally guilty...web sites...think that is OK to commandeer my computer to suddenly blare their advertisement at me is simply dumbfounding. If anything one would imagine that by 2015 everyone who has even a miniscule amount of experience on the internet would know what a massive faux pas it is to do that.

More importantly, I am now inclined to go out and get Pizza Hut or more likely Mark's Pizzeria (local pizza place) instead of Dominos. As of this moment my level of disdain for Dominos is ranked higher than it is for having to clean up a cat hairball...which if you don't know me is pretty high on my disdain meter. Not only that, their thoughtless intrusion into my personal space and taking a collective crap through my speakers has prompted me to put together this little diatribe...which one would call bad press. This bad press, well it will live on for as we all know...the internet doesn't have an expiration date.

Thank you for your time.