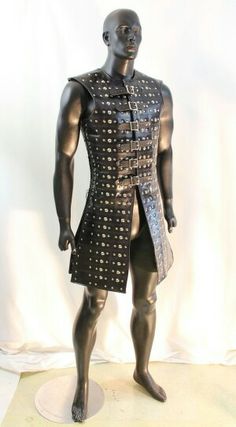 I know better, I really do and in spite of that fact I am going to smack this particular hornet's nest.
Having watched a number of tests with various swords, axes and longbows versus heavy leather (6mm thick) armor, I do believe that the standard RPG model (D&D, Pathfinder, etc.) is in fact completely wrong. So wrong in fact that it is worth contemplating revising how we treat armor within games
The three big points that I come away with are...
First, piercing and cutting through a single layer of 6mm thick leather is incredibly difficult. Requiring the type of swings and thrusts that is going to leave the attacker vulnerable to a counter-strike (riposte). Cutting, results in only surface damage and thrusting, in those rare instances where it actually penetrates, leaves the attacker's weapon stuck in the armor. When I say stuck, we are talking about having to put your foot on the target to get the weapon out. In terms of that penetration you are only talking about several inches which would have to deal with the gambeson (the padding under the leather armor)…the proverbial...just a flesh wound.
Second, against an armored opponent it is not about penetration or cutting it is all about the blunt force trauma. This means that weapons with the greater mass (warhammers, poleaxes, etc.) are going to do much better at wounding the armored target.
Third, chainmail should be the bottom rung of the armor ladder in terms of protection. Again, it isn't about cutting or penetration it is all about blunt force trauma and chainmail does nothing to stop that.
I can hear the shouts of, 'HERETIC!' We all saw little Frodo withstand that cave troll hitting him with that big pointy spear and his mithril chain saving him. In reality, what would have happened was that poor little Frodo would have had ribs shattered and a lung punctured…expiring a few minutes later having drowned in his own blood.
Next come the hecklers, 'this is fantasy and I don't want reality intruding into my sandbox!' Remember that the next time you making your case based on real world physics at the game table. We shouldn't cherry pick when to apply reality and when to ignore it…even in a fantasy game.
It is important to note that Mythbusters and YouTube were not around when D&D was developed, so this is not an indictment of those game designers. Today we simply have more information readily available than we have had at any other point in our history. Dispelling misconceptions about the effectiveness of actual armor and weapons doesn't dilute or detract from the overall gaming experience.
Just a smattering of videos that prompted this article...
ThengThrand
,
Skallagrim
,
Bigbowbrum
,
I am Shad
,
Arms and Armour
,
Conncork
Let me know what you think?