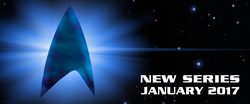 The good news is that CBS will in fact be producing a new Star Trek series. The bad news is that as of right now only the premiere will be televised for free, after that it will be on their new streaming service.
Now, I could tell you what I would like the new series to be about and who I would like to see cast. Lets face it though that is just pie in the sky BS as I am not a TV producer or even remotely connected to Hollywood. What is worth discussing is the cost of all these subscriptions and how they are adding up. It should be readily apparent that there is going to time in the not so distant future where the number of subscriptions exceeds what the consumer can afford.
Game of Thrones and VEEP, well that means you are either buying the DVD's a year late or subscribing to HBO. Ash vs. Evil Dead, Black Sails, Da Vinci's Demons, Outlander (the wife's show) well that means Starz. Penny Dreadful and Homeland...Showtime. Netflix for House of Cards and others. Amazon Prime membership because it saves time on shopping and money on shipping. Roll20 for my virtual gaming table. Adobe Creative Suite which I need for work. Verizon Fios for internet and television. Xbox subscription...because I am a CoD junky. Throw in our smart phones for good measure. You can see the trend...all of this is adding up...and I seriously doubt that I am the only one in this boat.
Now, there are some YouTube channels that I would like to support via Patreon but I have to weigh the cost vs. benefit. If you are a content creator and you are expecting/hoping to use Patreon as a means to offset your costs or generate a profit...take a moment and peruse the previous paragraph. What is it that you are bringing to the table that warrants giving up something from that list? Not only are you competing for those dollars but you are also competing for the viewers time...which is becoming equally scarce. This isn't meant to be a critique of any singular YouTube content creator or YouTube as a whole. It is however, a relevant question that every person thinking of going the Patreon route should consider.
Will I subscribe to the CBS streaming service for the sake of watching the new Star Trek series?
At this point, I would say probably not...and that coming from a rather ardent Star Trek fan.
Let me know what you think!
Are there too many subscriptions?