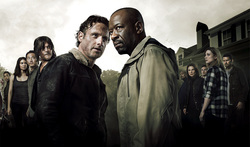 Well, the wait is almost over...the second half of Season 6 of
The Walking Dead
picks up this Sunday 9/8c (on AMC). Things are looking pretty bleak for our little band...will somebody PLEASE smack Sam Anderson upside the head to shut him up!!! Last thing you need during a Zombie Apocalypse is a whiney little kid..."Mom...Mom...Mom."
The Walking Dead: All Out War
is doing well on Kickstarter, with more than 2,200 backers, nearly $275,000 and 18 days to go. The estimated delivery is August 2016 so you will not have to wait long once the Kickstarter is over to get your chance to see how you would do during the end of the world.
For a pledge of $125 or more you get...
Something To Fear (The Walking Dead: All Out War Miniatures Game, Atlanta Camp Expansion, The Walking Dead Game Dice & Dice Bag AND Kickstarter Exclusive Sheriff's Badge Initiative Counter all in a Collector's Edition game box, PLUS all applicable stretch goals!
IF you are still on the fence...go ahead and grab their playtest rules
here
for free! Just click the Add to Cart button to get your free copy.