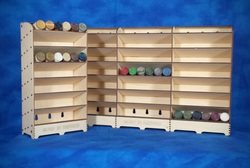 I like themes...so I am going to run with the "time to paint your miniatures".
Burn In Designs
is offering their Expandable Paint Dropper Bottle Wall Storage System...it is a rather lengthy title but it looks like it will do the job.
He offers it in two styles, the Expandable Wall System 42 which holds...yes 42 bottles (HWD of 12x6.5x3.25") and the Expandable Wall System 126...126 bottles (HWD of 12x19.25x3.25"). He uses plywood for his products which gets away from several flaws of hardboard and is lighter weight.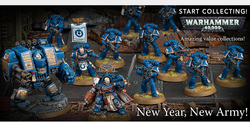 It turns out that Games Workshop didn't have holly jolly Christmas after all. The Guardian has reported that GW has lowered predicted annual profits...

"Pretax profit for the year to 29 May was unlikely to exceed £16 million. Last year, it made profits of £16.6 million."

They went on to report that overall sales fell at their global chain of 430 stores...the bright spot was that online sale were up 5.3%. In addition to all of that...they have hired a recruitment expert to "ensure a constant supply of store managers" while they froze staff pay. Not altogether surprising GW one man stores are experiencing a 30% turnover rate.

In other words...the GW...oh sorry...the Warhammer death spiral continues. Having three rather large 40K armies I am seriously pondering selling them while there is still interest in the game. My fantasy armies at least have the benefit of being useful in other games (Pathfinder monsters, Frostgrave, etc.) so I can hold onto them. The upside is a fair amount of them are in unopened boxes and blisters so they may retain some of their value.